Nokia 8 Sirocco, the flagship of HMD Global released on February of 2018 that i wasn't interested about but just want to write about it so much.
Specifications
Nokia 8 is equipped with Snapdragon 835 coupled with 6 GB of RAM ( everyone gives more RAM than Google). It has a 5.5 inch P-OLED display which is not the greatest in the market but okay to look and a 3260 Mah battery.
It has a 5 MP front camera and dual 12+13 MP rear camera equipped with Carl Zeiss optics where the 13 MP camera acts as a tele photo lens.
Nokia 8 comes under Android One program, meaning that it gets updates as quick as the pixel and is as close to stock as one can get. In exception to some Nokia support applications and Nokia themed icons, the phone is pure stock vanilla ROM. Result ? It's one of the smoothest phones in the market on par with competition like One Plus and Google. But as with every Android phone, i doubt if the smoothness would last with time. It's something that one has to look under long term usage and its hard to cover in reviews.
But something that can be covered is battery life. 3260 Mah is not a good battery capacity considering power hungry Snapdragon 835. But thanks to software optimization, the phone has pretty good battery life. It did last an entire day with my heavy use. It also supports quick charging and wireless charging making charging at your office desk pretty easy. Consider looking at some of the Qi Wireless charger below over at Amazon. Trust me. It's time to go WIRELESS !
The camera looks good. Actually pretty good than last year's Nokia 8. The pictures look sharp and pretty saturated. But it still lags behind Pixel 2 and One Plus which surprisingly less than Nokia 8 Sirocco. Nokia 8 Sirocco comes at Rs.49,999 for 128 GB of storage. It does not have a SD card slot and storage cannot be expanded.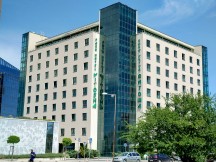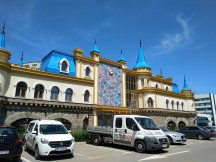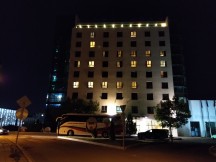 It supports OZO 360 audio recording which is pretty helpful when you are recording videos over at some concert or something. It has rear finger print reader, NFC and IP 67 water resistance ( I love water resistant phones.)
Good camera, Good battery life and Awesome performance. What's more ?
It's the build. That awesome build that some may hate but i loved so much at first glance. The sleek glass build that is so light weight and curvature at edge in both front and back of the phone pretty much like the S7 but curved so much that it looks pretty sharp at the sides and that makes the phone handling pretty much easy. Light weight and good grip god that's the phone that i liked to hold in my hand for a long time after HTC One M8. Nokia is known for its awesome build and i like the way HMD Global made this phone. I just hope that they would make phones that feels just as same as Sirocco.
Would i buy Nokia 8 Sirocco ? Maybe. I love the build and pretty good battery life. But i still hope that it has better camera.
Looking to buy Nokia 8 Sirocco, grab the cheapest deal over from Amazon !